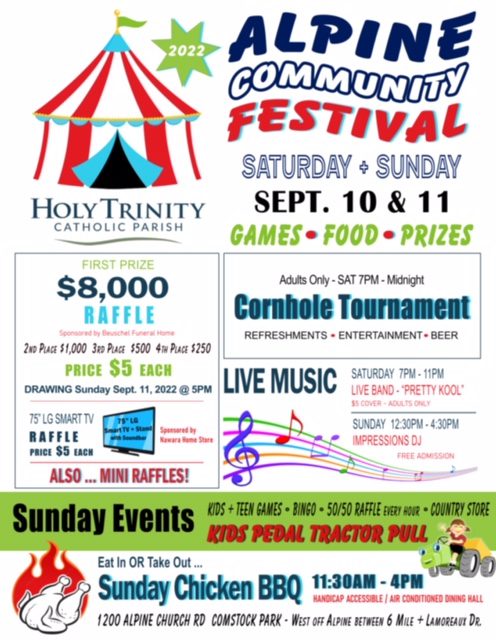 Holy Trinity Parish Festival is September 9-10, 2023.
Saturday Evening 7:00 pm – Midnight  –  ADULTS ONLY
$5 cover
Band "PRETTY KOOL" (Check them out on the link)
Cornhole Tournament
Beer Tent
Concession Food
Sunday 11:30 – 5:00 pm
Chicken Dinner (11:30 – 4pm) Dine-in or Take-out
Kids and Teen Games in the Tent: games open from noon – 4:30pm
Concession Foods in the Tent
IMPRESSIONS DJ  (12:30 – 4:30)
Magician making balloon animals – Noon to 4:00 pm
Pony Rides from 1:00pm – 4:00pm
Sno-Cones and Cotton Candy
50/50 Raffles every hour: find the RED-VESTED ticket sellers!
Cash and TV Raffle Ticket Sales: sales at the Information Booth
Mini Raffle Tent and Ticket Sales: check out all the gifts in the Mini Raffle Tent
Kid's Pedal Tractor Pull: sign-ups begin at 12:45 > Pull begins at 1PM
Country Store: fresh fruit/vegetables, baked goods, and canned good for sale
Sunday Chicken Dinner Details
Sunday Chicken Dinner is from 11:30 am – 4pm
Dinner cost is $12  for a 1/2 Chicken   –  OR   – $10  for 1/4 Chicken
Dining in Dinner includes:
Chicken
Potato Salad
Cole Slaw
Veggies
Roll/Butter
Applesauce
Beverage station (indoor dining only)
Dessert (while supplies last)
Take out will be available from the dining room.
Corn Hole Tournament – Saturday, September 10th – 6:30 pm
Corn Hole Tournament Information
Round 1 will be best of 3 games and moving to Round 2 and beyond as single game eliminations. All teams will be placed in 1 division to keep the tournament moving along so everyone can also enjoy the live music and beer tent. Each player will receive 2 drink tickets for the evening and free gate entry. Cost is $50 per team and prizes to be determined.
Registration 6:00pm
Bags Fly between 6:30-7:00
Registration for the Corn Hole Tournament in on SIGN UP GENIUS  Please provide name and phone number for team participants on the sign up.
Play your odds on one or more of the RAFFLES
50/50 Raffle Drawing every hour on Saturday Night and Sunday.  Find the RED VESTED  ticket sellers to purchase your chance to win!
$8,000 Cash and 75 " TV Raffle Tickets available at the Information Booth
Mini Raffle Tent open for viewing and ticket sales Sunday from 11:30 – 4:30 pm.  Many incredible items available to win! Buy your $1 chance and put it in the BUCKET of the item you wish to win. Good Luck!
Thank You! Thank You! Thank You!  If you are able to help, here is a list of items needed:
For the GROCERY GAME:
Take a bag from the display in the narthex, fill it with grocery goodies and return it to the narthex.
For the CEREAL WALK:
New this  year! Like a cake walk but with boxes of cereal. Pick up a box or two of your favorite cereal and drop it on the FESTIVAL DONATION table in the narthex.
For the MINI RAFFLE TENT (suggestions)
Kids Items
Food Items
Small Appliances
Hunting Items
Sports (Michigan/Michigan State) items
Spa/Self Care Items
Tools
Gift Cards/Certificates
For the Country Store:
New Craft Items
Fruits and Vegetables
Homemade Baked Goods
Homemade Mason Jar Products (Salsa, Cookie Mixes, etc.)
For the Chicken Dinner:
Desserts: Pies, brownies, cakes or cookies. (Please, no cream or custard pies.)  Please bring your desert to the North Entrance*  of the Family Center on Sunday morning.   Pies can also be brought to the Narthex before the Saturday Mass on Sept. 10th at 5pm  . (*The North Entrance is the separate drive to the gym entrance along Alpine Church Road.)