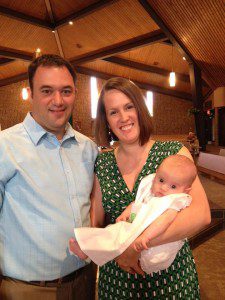 The Pro-Life Ministry at Holy Trinity has several facets: Blood Drive, HT Care Notes, and Pro-Life. All these sub ministries work to support life! If you are interested in volunteering in one of these pro-life ministries please contact the coordinator.
Bishop Walkowiak's statement on the passage of Proposal 3
Michigan voters passed Proposal 3 (formerly known as "Reproductive Freedom for All"), an extreme pro-abortion amendment, on Tuesday, Nov. 8, 2022. This constitutional amendment now allows for "a new individual right to reproductive freedom, including right to make all decisions about pregnancy and abortion; allow state to regulate abortion in some cases; and forbid prosecution of individuals exercising this established right."
The Diocese of Grand Rapids' Office of Communications issues the following statement from Most Reverend David J. Walkowiak, bishop of Grand Rapids, following the approval of Proposal 3 by voters in Michigan:
The passage of Proposal 3 in no way diminishes our commitment to pray for and support human life at all stages of existence. It is disheartening to see that society continues to promote abortion as the only option for women experiencing unintended or unplanned pregnancies. I call on our elected representatives to enact legislation that prioritizes the well-being and stability of families in our society. The United States Bishops have made recommendations at the federal level to make this type of society possible.
The Catholic Church remains committed to helping women and couples who are facing unexpected or difficult pregnancies because we firmly believe God has a plan and purpose for every human life. We will continue to accompany and care for women in need of emotional, spiritual, or material support and their child(ren), born and unborn.
For every woman who has had an abortion, know that God loves you. Help and healing are available to you through our Project Rachel ministry.
We are grateful to all those around our state who worked tirelessly in opposition to Proposal 3 praying fervently, sharing resources and having the important conversations with friends, family and neighbors to help change hearts and minds.
Also read statements from:
Archbishop Vigneron (Archdiocese of Detroit) | Bishop Boyea (Diocese of Lansing) | Michigan Catholic Conference
Local resources:
Healing after abortion: Project Rachel
Catholic Charities West Michigan: Pregnancy Support Services | Resources and support for moms and families
Pregnancy Support: HELP Pregnancy Aid | Pregnancy Resource Center – Grand Rapids | Alpha Grand Rapids
Baby and Toddler Pantries: Catholic Charities West Michigan | The Baby Pantry of Lowell | Grandmother's Cupboard Baby Pantry (Lake County)
St. Mary Parish, Spring Lake: Medical/dental-Pregnancy Support-Food and Clothing-Housing
Infertility Support & Education: Franciscan Life Process Center
Proposal 3 will be on the ballot November 8, 2022. Be informed before fill out your absentee ballot or going to the polls !
Michigan Catholic Conference has many resources to help understand the issues and false claims of Proposal 3. Get to know the facts and spread the word. PROPOSAL 3 is NOT good for Michigan moms, children, doctors, and health care centers who care for pregnant women.