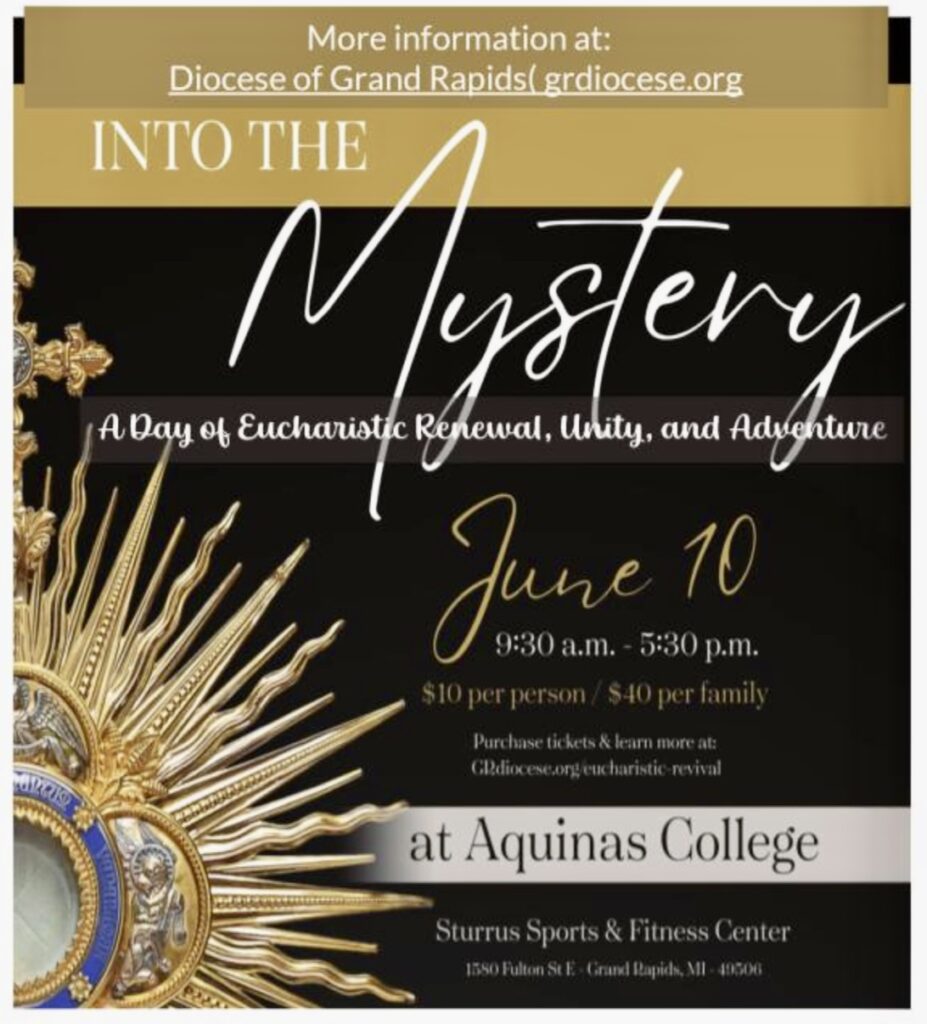 Into the Mystery

Into the Mystery: A Day of Eucharistic Renewal, Unity, and Adventure
June 10| 9:30 a.m. – 5:30 p.m.
Aquinas College Sturrus Sports & Fitness Center
1580 Fulton St. E., Grand Rapids, MI 49503
This event will serve as a sort of mini-Eucharistic Congress for the diocese, gathering a large number of the faithful from throughout the diocese for a day focused on worship of the Blessed Sacrament and growth in our understanding of its mystery. Naturally, the day will be centered, both in concept and schedule, around the celebration of Mass. The other primary opportunity for Eucharistic worship will be a procession through campus and the surrounding neighborhood as the capstone of the day.
Apart from the liturgical celebrations there will be two featured speakers:
In the morning we will hear from Fr. Jonathan Kelly. Fr. Kelly is rector of St. John Vianney College Seminary in the Archdiocese of St. Paul and Minneapolis, chaplain for the University of St. Thomas football team and the local chapter of Legatus. He is also a spiritual director and adjunct faculty member for the Institute for Priestly Formation in Omaha, Nebraska, and current President of the National Association of College Seminaries.
Our afternoon speaker will be Meg Hunter-Kilmer, a missionary and storyteller who travels the world telling people about the fierce and tender love of God. She holds two degrees in theology from the University of Notre Dame, is a Fellow of the Sullivan Family Saints Initiative in the McGrath Institute for Church Life, and has written two books about the Saints: Saints Around the World (an international saint storybook for children) and Pray for Us: 75 Saints who Sinned, Suffered, and Struggled on Their Way to Holiness.
The day will also include time for participants to:
– celebrate the sacrament of confession
– visit a ministry fair showcasing ways to serve and give within our diocese
– explore the Vatican display of Eucharistic Miracles provided by the Mary Our Mother Foundation (some of you may be familiar with this exhibit which has already been hosted by some of our parishes)
– participate in Eucharistic Adoration in Our Lady Seat of Wisdom Chapel.
Information about the day, including a registration link, will be available on the diocese's webpage for the Eucharistic Revival: https://grdiocese.org/eucharistic-revival. Box lunch will be provided to registrants. Registration cost for the day is $10/person or $40/family household.
All are invited to stay after the Eucharistic Procession for a festival on Holmdene Lawn with live music plus food and beer for purchase from local vendors. This will run from 5:30 – 7:30 p.m.
Carpooling
If you are interested in carpooling as a DRIVER or RIDER, please contact Debbie Benjamin at Benjdt@sbcglobal.net
Into the Mystery agenda
8:30- 9:30 Arrival / Confession / Vatican Display of Eucharistic Miracles
9:30-10:00 Welcome and Morning Prayer
10:00-11:00 Keynote: Fr. Jonathan Kelly
11:15-12:15 Mass with Bishop Walkowiak
12:15-2:15 Lunch / Ministry Fair / Exposition of the Blessed Sacrament / Confession / Eucharistic Miracles
2:15-3:00 Keynote: Meg Hunter-Kilmer
3:20-5:30 Eucharistic Procession
5:30-7:30 Family Festival including Live Music with Food and Beer for purchase